Welcome to my first edition of Snuggle Saturday even though I work saturdays!

Today, we talk Superbowl!

Rules: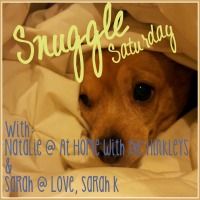 1. Do you watch the actual game or only watch for commercials and half time?
Well, I wouldn't say watch. I mean I am in the room when the TV is on and my husband is watching it. I will probably be on my laptop, eating and looking up to observe the new commercials. OH and i watch the half time show. ( That's what the Super Bowl is for , right? )
2. Which team did you want to make it to the Superbowl?
In all honesty, I really don't care. I would have liked to see the Bronco's in it though!
3. Which team will you root for? The Ravens or the 49ers?
The Ravens, their Jersey's are prettier :)
Have a great weekend y'all!